Healthcare is a noble and honorable industry in which to work, but the healthcare industry wouldn't exist without hardworking salespeople to sell the products healthcare professionals use on a regular basis. Medical sales is a burgeoning field that keeps everyone from private practice physicians to full hospitals running smoothly. As a medical sales professional, it's essential that you not only have the ability to sell a product, but also that you can effectively communicate with healthcare professionals of various levels. It is therefore crucial that medical sales professionals are knowledgeable in both the medical as well as the sales fields. Let USA Resume help you get your foot in the door and highlight all of your top attributes with a professionally written resume. We'll send your resume to the top of the list to help you secure the job you deserve.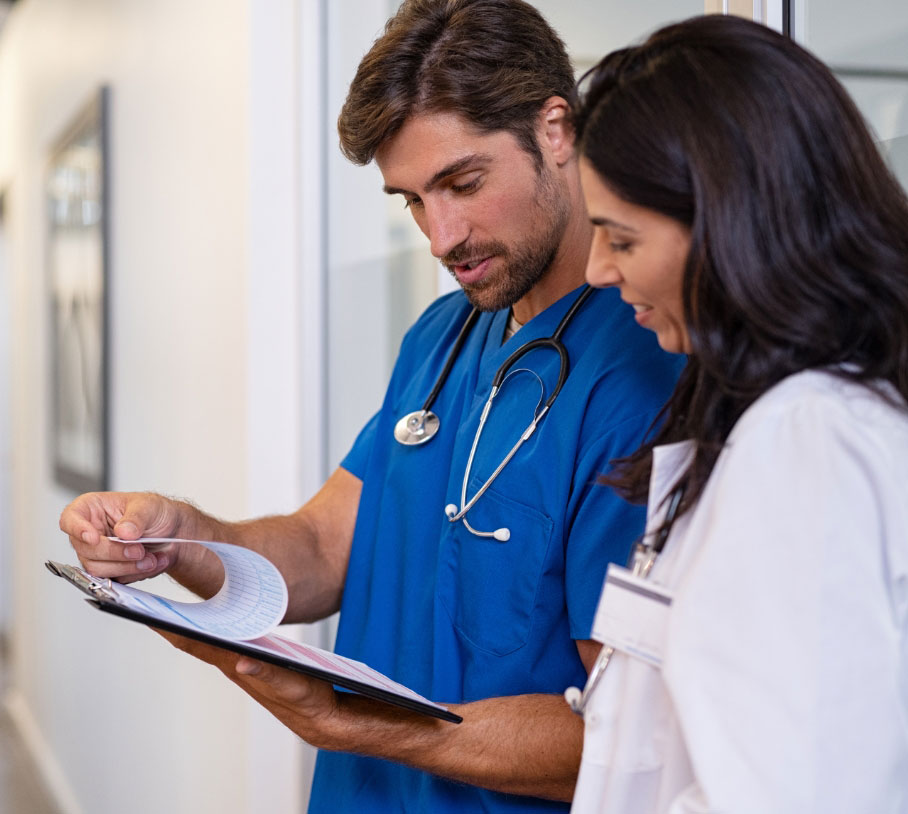 Resumes for Medical Sales Professionals
As previously mentioned, there is more to medical sales than having either the ability to sell or understanding medical equipment. Pairing the two is what makes for a great medical salesperson. The same goes for your resume. Having a well-balanced resume that highlights your accomplishments as both a salesperson as well as experience within the healthcare industry will put you in the best light.
Here are a few tips to help you put together the perfect medical sales resume:
Avoid getting too technical in your medical jargon and err on the side of simplicity.
Keep your resume's format clean and straightforward.
Include metrics and numbers to highlight your ability to meet sales quotas.
List soft skills such as interpersonal communication, negotiation, and people skills.
Be specific with your accomplishments; for example, mention your ability to help customers transition from using one company's product to another.
Prominently feature achievements, certifications, experience, and education relative to the industry.
There are many things to keep in mind when crafting a resume. While some resumes may be geared toward specific jobs or careers, there are certain tips that can apply to almost all. These include:
Never go back more than 10 to 12 years in the descriptive narrative of career history.
If you're over 45, take off dates that apply to graduations and anything else that hints at how old you are.
If you feel that your home location may deter an employer from hiring you, do not put your house address at the top of the resume. Rather, simply put your name and an email address. You can talk about the drive to work after they decide to interview you. Here are two reasons that your address might hurt you: 1) your employer may feel that your drive to and from work is too long; 2) you may live in a neighborhood that is considered "questionable", and an employer may have preconceived notions regarding such.
Try, whenever possible, to keep your resume within two pages. The following would be possible exceptions: 1) if you have extensive experience and feel that it would improve your chances for hire; 2) if you are over 60.
With an extensive background in the creation of industry-specific resumes, the writers at USA Resume are certified and highly educated. They are also certified career coaches, thereby adding immeasurable value through knowledge and expertise. Some of the services USA Resume offers include:
Professional Cover Letters
Custom-Tailored Resumes
LinkedIn Profile Optimization
A Review of Existing Resumes for Areas of Needed Improvement
The wisest choice to make when you need an impressively written medical sales resume is to turn to the professionals at USA Resume. Contact us today if you'd like to learn more.